Newsletter 14th of October: Major Challenges for the Film Industry
Mediavision's Q3 analysis of consumer spend on media points towards a normalization, following substantial corona effects during the spring. Cinema, however, is an exception. The drop in consumer spend om films is currently at -70% year-on-year. The challenges for Swedish movie theatres have many similarities with what we now see in the UK and US.
Starting off with a glance at the current market situation (Mediavision will shortly release its' full Nordic analysis), we can conclude that cinemas in Sweden are facing major challenges. After months of negative figures, visits are still down in Q3 by 65% on a YOY basis. Today, most Swedish movie theatres are open (albeit seat and spacing regulations). Hence, the question is more complex than just accessibility. An important factor is, likely, the distributors unwillingness to release blockbuster movies on theatres in today's climate. An unqualified guess is that it will take quite some time before the situation has improved – at least until the pandemic is under control. Consequently, the low household spend on the movies in Q3 does not come as a surprise. Expenditures has decreased by 70% since last year.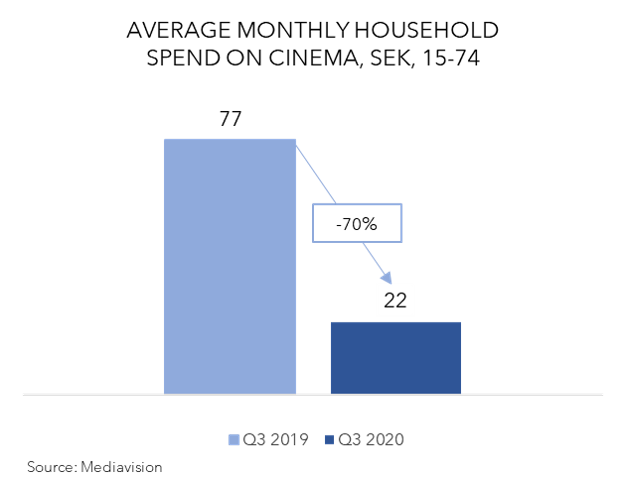 The situation seems to be the same for movie theatres in many countries. This week we have learned that one of the major actors in the US, AMC Theatres, is in danger of running out of cash if the attendance to the theatres doesn't improve drastically – and soon. In a public filing, the company reported that attendance at the 494 (of its 598) U.S. locations currently open, was down approximately 85%. Last week, another major actor, Cineworld, decided to temporarily close 660 outlets across the US, Great Britain, and Ireland. UK actor Vue has decided to close down a quarter of its outlets, in addition to cutting opening hours.
Another tough challenge is the delayed openings of blockbuster titles. Star Wars, Avatar, Jurrassic World: Dominon and West Side Story are just a few examples. The latest James Bond movie (No Time to Die) was recently announced a postponement (for the second time) to April 2021. This has sparked a US debate on how theatres are to outlast these difficult times. No wonder there is increasing discussions over "windowing" and the possible launch of major titles directly on TVOD. An example is Disney's latest block buster Mulan that went straight to TVOD, available on Disney+ for $29.99. For the upcoming title Soul, Disney has announced a slightly different strategy. The film will be made available on Disney+ at no extra charge on December 25th.
So, is this a tipping point? Will the pandemic eventually cause a new order for the movie industry? The answer will of course depend on how well digital revenues (SVOD and TVOD) can compensate for the box office losses. It is not a wild guess that it will still take some time to figure out the "new new thing" for Big Movies.
Industry Events
MIPCOM: 12-15 October 2020, Cannes, France
Broadband World Forum: 13-15 October 2020, Amsterdam, Netherlands
Medientage: 28-30 October 2020, Munich, Germany
American Film Market (AFM): 4-11 November 2020, Santa Monica, USA
NEM: 9-11 December 2020, Zagreb, Croatia
MWC Shanghai: 23-25 February 2021, Shanghai, China
MWC Barcelona: 28 June – 1 July 2021, Barcelona, Spain
*Mediavision will attend
**Mediavision will present