Newsletter 10th of February: Digital Newspaper Growth Challenged by Newsletter Services?
Digital newspaper subscriptions have seen steady growth, with the uptick in news consumption spurred by the pandemic. However, the industry is battling high churn levels – retention will be the name of the game 2021.
Mediavision's Q4 analysis of the Swedish newspaper industry reveals strong figures for the digital side of the news business. Churn intention for digital newspapers amounted to 10%, while it is almost the double for print – approx. 20%. This is a clear shift, as churn for print used to be lower than for digital up until Q3 2020. Why is this?
One explanation is the high – and increasing – price for print subscriptions. Mediavision's analysis shows that a print subscriber paid on average +20% in Q4 2020 compared to Q4 2019 – up from SEK 220 to SEK 270 on average per month. For digital subscriptions, spend remains stable or even with a tendency to decrease.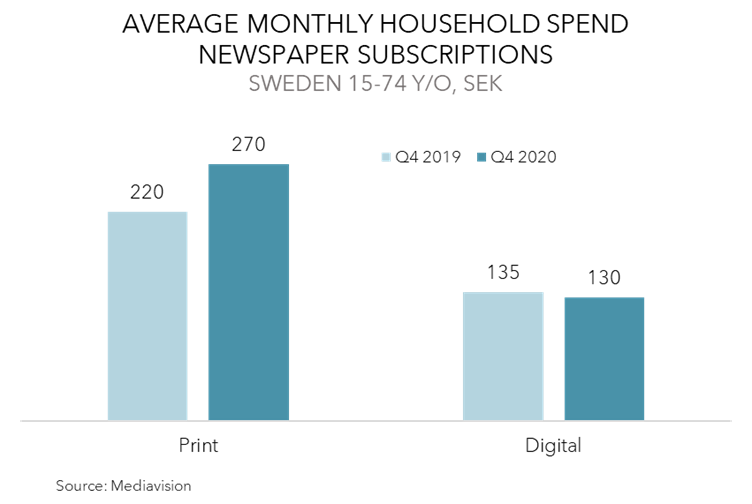 As we all know, the advertising market is severely hit by the pandemic – which once again underlines the importance of subscription revenues. A newly released report by Reuter's reveals that driving growth of digital subscriptions was rated "important" or "very important" by 76% of the survey respondents within the industry. This is ahead of both display and native advertising – as late as 2018 the order of prioritization was reversed according to the same source, which clearly demonstrates the growing importance of subscription revenues.
Advertising revenues will likely continue to decline as share of total revenues. Consequently, this means an upgrade of subscription revenues. The attention on "click bates", generating broad audiences and building CPMs may be a thing of the past – the new focus might be to increase subscriber engagement with the content through several measures.
And "engagement" is actually what the new trend of newsletters is all about. For example, American start-up Substack that provides creators with an easy tool to distribute newsletters, has gained momentum in the past year. The number of paid subscriptions on Substack have now surpassed 500' and the top writers make more than USD 1 million annually. Several well-known American journalists have abandoned their regular jobs to start newsletters, prompting the thought: Is this the future of journalism? Global actors have shown interest in newsletter services as well – Twitter acquired Revue last week and rumour has it that Facebook is working on a newsletter services on their own. We know that people are willing to pay for high quality journalism, but does that necessarily mean spending money on a subscription to a traditional newspaper? Perhaps not – newsletter subscriptions might be the new kid on the block.