Newsletter 28th of April: Podcasts – Where the Action is in 2021
The podcast industry has been the centre of attention for analysts some time already. Now, much points at 2021 as the year when the battle for the podcast market will reach its climax. Not only because the Swedish King is doing his first appearance in the medium (!) – but also because of the strong push by basically all actors in the audio field. In addition, both podcast creators and distributors are working towards a market where consumers – and not only advertisers – pay for podcasts.
In the Nordics, approximately 3 million people (equivalent to 15% of the population 15–74-year-olds) listen to podcasts an average day, according to Mediavision's Q1 figures. Spotify and Apple are two of the main actors on this market. Among those who listen to podcasts an average day, 37% choose to listen via Spotify while 20% choose to listen via Apple Podcasts. Public Service (YLE, DR, NRK and SR) is the third most popular platform for podcast listening in the Nordics.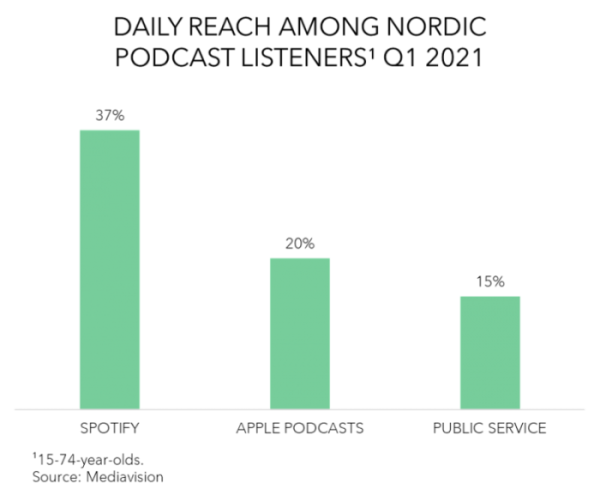 So, what are the latest developments in the industry?
Let us start off with Spotify that Wednesday reported its Q1 earnings and results – mostly in line with expectations. The highlight of Spotify's Q1 came from premium subscriptions, which increased by 21% YOY to a total of 158 million. Comparing quarter-on-quarter, Spotify added almost 4 million new premium subscribers in Q1, an increase of 2%. Spotify stated that these results were within the range of expectations given the outperformance in Q4 and the continued impact from COVID-19.
Spotify also gave an update on the podcast area. At the end of Q1, Spotify had more than 2.6 million podcasts on their platform – up about 400' from last quarter. Ahead of its Q1 report, Spotify announced plans to launch a 'paid podcast platform', which allows podcasters to mark select episodes as subscriber-only content, then publish them to Spotify and other platforms via Spotify's podcast creation tool Anchor. Spotify will not charge podcasters, but 100% of the earnings will go to the creator. For the time being, this deal is only available to creators in the U.S., but with the aim is to expand internationally in the months ahead.
Moving on to Spotify's prime competitor, Apple, it hosted its 'Spring Loaded' event last week. Apart from several hardware news, Apple announced that from May, it will allow podcast publishers in 170 regions to sell subscriptions to individual shows or groups of shows. Price will be set by the creator, but there is one major difference to Spotify's creator offering. Apple will take a 30% cut of any subscription revenue generated within the first year on the platform – dropping to 15% after the first year. In addition, podcasters will pay USD 19.99 a year to enable subscriptions. Apple will not require podcasters to create Apple-only exclusive shows, but it does want creators to distinguish between content that is already distributed via Apple and content available on other platforms.
Further, rumours have (again) surfaced that Swedish company Acast will be listed on the stock market with a market valuation possibly surpassing SEK 5 billion. IPO aside, Acast has been busy with new ventures – this autumn a partnership was formed with Patreon regarding charging possibilities for podcast creators, in February news surfaced about their purchase of the American podcast company Radio Public, and recently, an updated version of Acast+ was launched.
Further, Amazon recently made podcasts available for streaming via Amazon Music in India and Spain. Content includes popular podcasts such as Mindfacts and TED in Spanish, in addition to new original shows produced exclusively for Amazon Music. Could this be the next step in the establishment in the Nordics? Also, Facebook upped its audio-game last week with the introduction of live audio rooms, a feature with striking resemblance to Clubhouse, as well as a new collaboration with Spotify on a miniplayer that streams Spotify directly from the Facebook app.
All in all, we could say that the podcast war is well on its way to be just as heated as the much-debated streaming war of video. Mediavision will keep you updated on the latest battles – with our Nordic Audio Analysis shortly to be released.