Newsletter 5th of May: Mediavision Q1 SVOD Analysis – Frequent Usage is the Best Churn Antidote
The fierce competition on the video streaming market shows no signs of slowing down in Q1 – quite the contrary. Following a strong and pandemic-induced growth in 2020, customer retention is likely one of the most important issues this year for all SVOD services. Mediavision's Q1 analysis shows that frequent usage plays a key role in reducing churn.
Loyal customers and long-lasting relations are key on a quickly maturing SVOD market. Inducing high engagement (i.e. viewing) is paramount – both in frequency and time spent. During Q1, Mediavision has analyzed how frequently households in Sweden engaged with the services they subscribe to. Most commonly, the services were used 1-3 days a week. Only 14% of the hosuseholds claimed a 7-day-usage an average week. Maybe a bit worrysome, almost 25% quantified a "no-usage" at all an average week.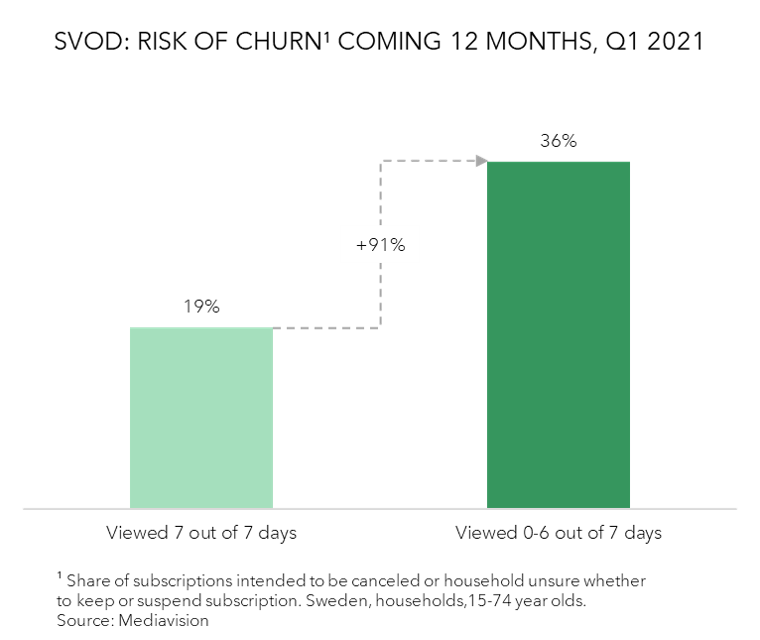 Mediavision analysis points to a strong correlation between frequent use and low risk of churn. Among those that adhere to using their SVOD services 7 days a week, the risk of churn is significantly lower than for all the other customers. For those claiming a usage of the service 0-6 days a week, the churn risk increases by more than 90% compared to the daily users. Market leader Netflix stands out; high-frequency usage and significantly lower churn risk among its' subscribers.
To conclude: Consumer engagement is the name of the game as we approach market saturation.