On October 26, HBO Nordic will be replaced by HBO Max. And it is not only a simple switch. According to the owner WarnerMedia the service will be both broader and better than before. This means more content and more genres, at a lower price. Mediavision's analysis, based on new Nordic data, shows a boosted interest for HBO in the Nordics as Max launches.
The interest in the not-yet-launched service HBO Max is substantial in the Nordics. The majority of households that plan to purchase HBO Max, already have at least one video streaming service. This implies that HBO Max will drive stacking rather than overall household penetration – similar to how Disney+ entered the Nordics just over a year ago. Since then, Disney+ has managed to add over 1.6 million Nordic households in less than one year – on a market with saturated household penetration.
This is positive news for WarnerMedia, especially since the past year has been somewhat challenging for Max's predecessor HBO Nordic. According to Mediavision's analysis, 1.9 million Nordic households subscribed to HBO Nordic spring 2020. Since then, the service has lost approximately 145 000 subscribing households – during a period when the pandemic spurred growth for other major streaming services. The overall growth on the SVOD market since spring 2020 is approximately 3 million new subscriptions.
So, what has boosted the interest in HBO? As always, the answer is probably "a combination of things".
New and lower price
An HBO Max subscription will be 8.90 EUR per month – compared to 10.95 EUR for HBO Nordic today. At launch, current subscribers to HBO Nordic are eligible to a launch offer: Full year for 69.99 EUR. This puts HBO Max at the lower end of SVOD pricing in the Nordics. Only Apple TV Plus and Amazon Prime Video offers subscriptions at a lower price.
Multiple streams
HBO Max has one subscription tier, allowing three simultaneous streams (vs two for the current HBO Nordic). To access Netflix's top tier (four simultaneous streams) the price is 15.99 EUR per month – strengthening HBO's pricing power even further.
Content supply
Content is king, as always. The launch of HBO Max will bring a whole new set of series and movies to the service, including DC Comics, Cartoon Networks, and of course the original HBO Max content. The first announced local original is the Swedish comedy drama "Lust", staring Sofia Helin and Anja Lundqvist. And there is more to come according to the company. The "old" HBO Nordic has presented a few Nordic originals, among those Björnstad (SE), Kamikaze (DK), Welcome to Utmark (NO)
and At Home/Eristyksissä (FI).
In addition, HBO Max will entail substantial improvements to technical aspects of the service. This includes an overall improvement of user experience and the possibility to create individual profiles, as well as usage of the service on an unlimited number of devices. This is a lot more generous compared to today's HBO Nordic.
HBO Max launched in the US in May 2020 and the international rollout began in June the same year. Combined, the HBO Max and HBO streaming services have amassed a total of 69.4 million subscribers globally since then. In Q3 2021, total number of global subscribers increased by 12.5 million compared to the same period in 2020. On October 26th, HBO Max will launch in six European countries (The Nordics being four of these), and 14 additional territories will be added in 2022.
In summary, HBO is pulling a "Disney" on the Nordic market. Launching a "high-end" fiction-oriented, technically advanced service at a significantly lower-than-average price. And with a history of great performance on the Nordic market and a high consumer interest in "Max", things are looking very exciting for HBO.
Ten years after Netflix made its' debut in the Nordic countries – October of 2012 – what can we say about the journey so far? The launch was the real kick-start of the Nordic SVOD market, even if other companies also had begun their transformation earlier. But no doubt, Netflix was the true disruptor of the traditional TV industry. What has the development of Netflix been so far, and what is laying ahead in the very competitive Nordic market?
Netflix's journey to become the streaming giant it is today started back in 1997, first as a DVD-rental-by-mail firm, in the US. But it wasn't until 2007 that Netflix went into streaming. A few years later Netflix made its' next strategic move: Premiering the first original series "Lillyhammer", in February 2012, followed by the huge success of "House of Cards" the following year. And the rest is history… Netflix had started its' ride to become not only a streaming platform, but also one of the world's most prominent content producers.
"Lilyhammer" was co-produced with NRK, the Norwegian public broadcaster. This was perhaps an early sign of what over time has become a strong Nordic commitment. Steve Van Zandt, known from "The Sopranos", both stared and co-wrote the series. During his first promotional tour he had to explain Netflix to the audiences: "Well, it's like Blockbuster, but they're going to make their own content". At the time this often came across as confusing and somewhat odd.
In 2013, Netflix's second original series "House of Cards" debuted, which went on to be the first original online-only scripted TV series to receive major Emmy nominations. Director of the show, David Fincher, also won the Emmy Award for "Outstanding Directing for a Drama Series". With that success, Netflix's journey towards being considered one of the top content producers had begun for real.
Immediate Nordic success
On October 15th, 2012, Netflix launched in Sweden and shortly thereafter in the other Nordic countries. The Nordic streaming landscape was still at an early stage of development and with Netflix as a disruptor, things really started to change. 2012 there were only a handful of competing SVOD streamers; mostly local companies like MTG/Viaplay, TV2 Sumo and Elisa Viihde. 2013, only a few months after launch, Mediavision could conclude that Netflix had taken the #1 SVOD position in the Nordics. One year after launch Netflix's Nordic subscriber base encompassed over 1 million households. And it pushed growth for other SVOD actors as well.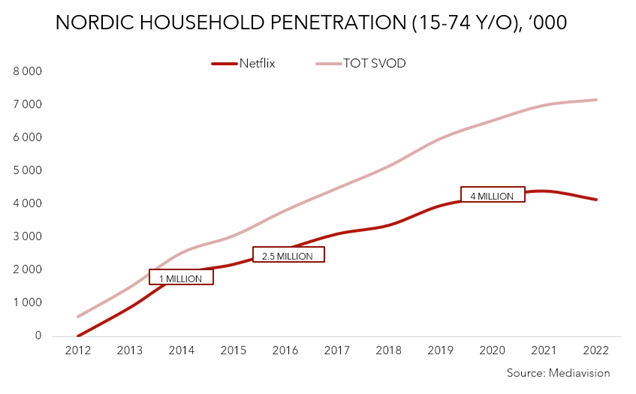 Today: Has the competition caught up to Netflix?
Four years after the Nordic launch, in 2016, Netflix reached 2.5 million subscribing households. That was approximately the same amount as all other SVOD services managed to attract together in this region. Netflix's market share amounted to 46 percent (of all Nordic SVOD households) in 2017 – no doubt a market leader.
However, the launch of several other global SVOD services, combined with a substantial push of some regional players, clearly increased competition. While other streaming services enjoyed a boost during the pandemic, Mediavision analysis pointed at diminishing growth for Netflix, below the overall market trajectory after 2020.
On a global scale, Netflix for the first time in Q1 2022 reported subscriber loss. Fierce competition and password sharing were stated as reasons, as well as the closing of the Russian operations. Focusing on the Nordics as a total, Mediavision could ascertain that spring 2022 was quite tough for Netflix. The streamer was losing subscribing households also here, and for the first time.
However, despite the sharp increase in competition, Netflix has remained the Nordic market leader with +4 million subscribing households fall 2022.
Local originals – a key to success?
How did Netflix become such a strong player in the Nordics? One reason could very well be its investments in locally produced original content.
Netflix was the first global player to commission Nordic originals. It started off with "The Rain", a Danish series in the spring of 2018, followed by the Swedish original series "Quicksand (Störst av allt)", released in early 2019. Other major titles released since then include "Snabba Cash", "Bordertown", "Ragnarök" and "Borgen – Power & Glory". By the end of last year, Netflix had nearly seventy Nordic originals in its' library. And the titles have also attracted viewers outside the region. According to Netflix, almost two thirds of their members globally have chosen to watch a Nordic original film or series.
But despite heavy investments, Mediavision's Content Analysis reveals that local competitors have the upper hand when Nordic consumers are to choose the service provider with the best local fiction. Netflix, on the other hand, is considered superior when it comes to foreign fiction.
Last year, Netflix levelled-up its Nordic presence by opening an office in Stockholm. The company now also has a team based in Copenhagen, to further support the region.
So, what's next?
No doubt, Netflix will remain a major player in the region, but not without challenges. Today's market is, in many respects, completely different than 10 years ago. Consumers are more sophisticated and have increasingly high demands. The market is characterized by strong competition, especially between the major services. Clearly, all streamers are facing a maturing market with weakening subscriber growth, combined with challenging times in the macro-economic environment. Maybe not a surprise, AVOD is more and more looked upon as a possible saviour – for companies and households. Netflix's AVOD tier is reportedly set to launch in the US at the end of 2022. If, and when, it will come to the Nordics remains to be seen.
With the launch of an AVOD tier, Netflix will enter a new arena and meet new competition. The "legacy" broadcasters have 50 years of experience in creating ad financed content as well as in ad sales. This should not be underestimated as a future challenge. Still, Netflix is the biggest streaming service in the Nordics and generally appeal to a different audience than most broadcasters do – making Netflix a highly attractive platform for advertisers.
Last year Netflix also launched a gaming service, as another measure to increase consumer loyalty. The plans are to expand from today's 24 games, to 50 by the end of this year. So far, games have been downloaded a total of 23.3 million times and average daily users are 1.7 million – less than 1% of Netflix's 221 million subscribers.
In conclusion – a lot has happened in the market since Netflix entered a decade ago. The media consumption habits of many people have changed completely, and we've been served hours of great content. We look forward to seeing what the next 10 years will bring from Netflix and the SVOD-market!