Newsletter 26th of August: Spike in Broadcast TV Viewing Driven by 60+
The pandemic has affected the media market in various ways. On the positive side stands broadcast TV, that sees an increased viewing in Q2 for the first time in five years. However, it seems to be a short-lived gain. Recent figures show that viewing is again decreasing.
As people are confined to spending more time at home, it is no wonder that television viewing has sky-rocketed. For the first time in five years, broadcast TV viewing increased by +5% in Q2 2020 in Sweden. Many other markets bare witness of the same development. In the UK, broadcast TV viewing has surged by 17% amid the lockdown. Similar developments have been apparent also in other Nordic countries – broadcast TV viewing increased by 20% during April in Norway.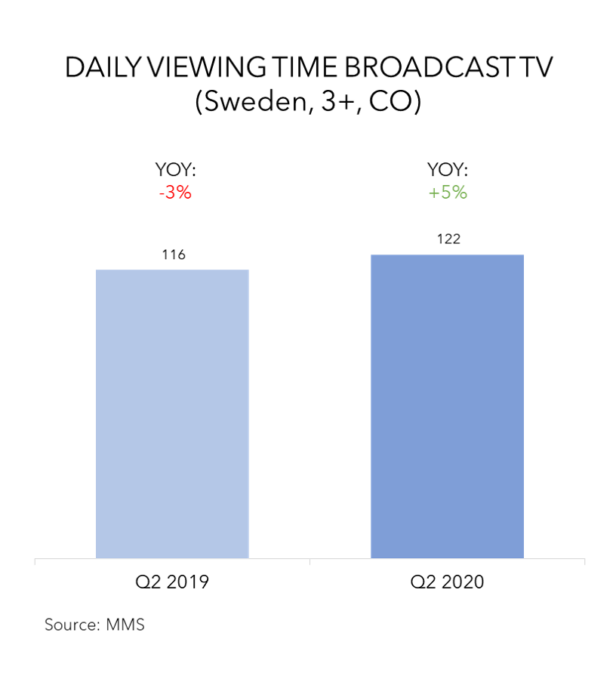 Unfortunately, this seems to be a short-lived gain. The increase in broadcast viewing has fallen from 15% in April to -3% in June. Recent figures for August (1 – 19 August) show that broadcast viewing decreased by -11% comparing YOY. Cancellations and postponing of major productions and sports events have naturally had a play in this development.
Another complicating factor is that the increase in viewing is entirely driven by older targets. While 60+ upped their viewing by 14% in Q2 2020, viewing in all other target groups decreased. This implies that the negative trend for broadcast viewing is persistent. Increasing online viewing supports this notion, as is evident in Mediavision's Q2 TV & Streaming report that will be released end of this week.