Newsletter 21th of April: Netflix Fell Short of Growth Target Globally – and Nordic Growth Below Total Market
Yesterday, Netflix reported its' first quarter figures for 2021. Subscriber growth fell short of the company's own guidance, partly explained by the pandemic and thus a lighter content slate in H1 2021. Mediavision Nordic figures for the first quarter are confirming the somewhat weaker development. Netflix's growth was below the general market trend in Q1.  
Netflix ended Q1 2021 with 208 million paid memberships globally, representing a growth of +14% YOY. However, this figure falls below the company's own forecast of 210 million paid memberships at the end of the period. In the EMEA region, Netflix added 1.8 million paid memberships YOY, to a total of 68.5 million paid memberships in Q1 2021.
Mediavision is following all online video services in the Nordics and based on the Q1 analysis, the conclusion is that Netflix's Nordic growth YOY falls below the general SVOD market growth during the quarter. The subscriber figures for the Nordic¹ market show a YOY growth of 5%, corresponding to approximately 200 000 new subscribing households since Q1 of last year. Hence, Netflix total Nordic subscriber base now amounts to approx. 4,4 million subscribing households. This means that Netflix's growth underperforms vis-à-vis the overall Nordic SVOD market growth (+8% year-on-year). The Nordic countries are all highly digitalized, partly driven by actors such as Netflix. The SVOD penetration as a Nordic average is approximately 60% in Q1. Mediavision analysis points at new actors taking market shares and that Netflix, albeit still the single largest SVOD service, is not the front runner in terms of growth.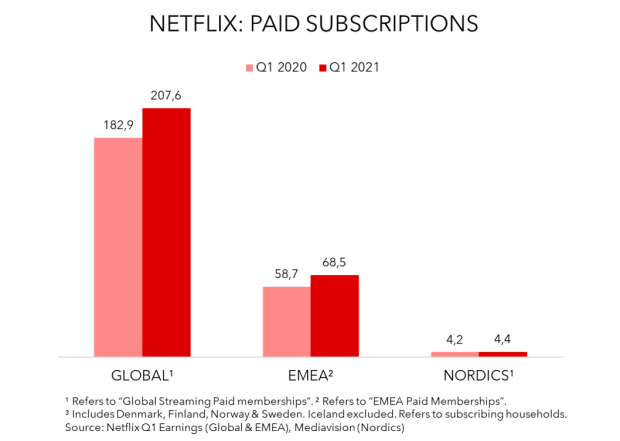 Netflix recognized two reasons believed to have slowed down growth globally. First, the push from the Covid-19 pandemic in 2020. Second, the lighter content slate in the first half of 2021 – also a consequence of the pandemic since it caused delays in production. As the roll out of vaccines are now ongoing, Netflix has resumed production in all countries except for Brazil and India. Hence, Netflix announced yesterday that USD 17 billion will be spent on content production in 2021. In 2019, the company spent USD 14 billion, and in 2020 USD 12 billion – so this represents a noteworthy uptick.
¹ Denmark, Finland, Norway and Sweden. Iceland excluded.