Mediavision: Families with Children Drives Growth on the Streaming Market
Families with children are large-scale consumers of media in general, and of streaming services in particular. Mediavision concludes that both media expenditure and uptake of streaming services are higher in families with children than those without. It is primarily digital services that push spending.
Families with children under the age of 18 constitutes a fourth of all households, and their media expenditure accounts for 33% of total media spending in Sweden (i.e., paid services, excluding public service). In a new analysis, Mediavision can conclude that families with children spend an additional 300 SEK on media services per month, compared to families without children (823 SEK/month compared to 529 SEK/month). Hence, on an annual basis (2021), media expenditure among families with children amounts to approx. 3 500 SEK more than families without children. The difference in spending is mainly driven by digital subscription services. Streaming video services constitutes a significant share, such as Netflix, Viaplay and Disney+.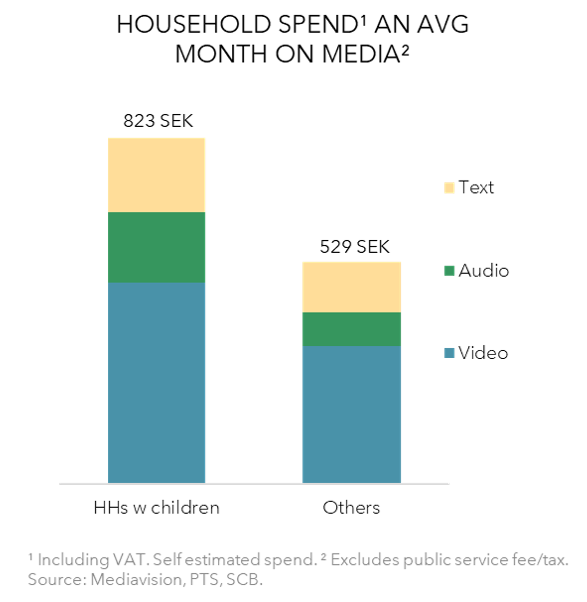 As the streaming market matures, families with children are expected to become an increasingly important target group for the actors. Spend on paid streaming services in families with children exceed those without by close to 90% and in Q1, 75% of families with children subscribed to a minimum of one paid streaming service. The importance of adapting and market services towards this target group, with high purchasing power, will increase going forward. Further, Mediavision concludes that services targeted at families have enjoyed great success in building what is referred to as "stacking". Hence, families with children subscribe to more services than others – where services with kids' content are added to the households' pre-existing array of services.
– Families with children have always been at the center of attention for media and TV actors, because of their willingness to pay for content. This holds true also for the digital market. Offering a wide range of kids' content will continue to be crucial – not the least in a market that is characterized by both strong competition and increasing maturity, says Marie Nilsson, CEO of Mediavision.