Mediavision: Podcasts reach half of Swedish population weekly, but few pay to access content
Podcast listening in Sweden is stable. That is concluded in Mediavision's Q1 analysis, where weekly reach amounts to a little above 50 percent. This figure is in line with past quarters and infer that close to 4 million 15-74-year-olds listen to some form of podcast content an average week. Nevertheless, little is financed by consumer payments today.
Interest in podcasts is great in Sweden. Approximately 50 percent of all 15-74-year-olds, 3.8 million, listen to podcasts an average week. A third of those, listen an average day. Less frequent listening is a result of podcasts commonly being published within weekly intervals. As for any other digital media, young people make up the largest share of the audience. Among 15-34-year-olds, weekly reach for podcasts is close to 70 percent in the first quarter.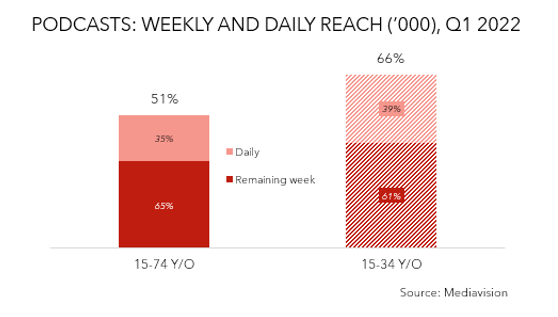 In general, the podcast market is advertising or public service funded. Mediavision's analysis concludes that households today devote less than 1 percent of the total media spend on podcasts (via one-off donations/payments or service specific subscriptions). Comparably, music streaming accounts for approximately 10 percent of household media spend, and audio books close to 5 percent.
– In a very short time, podcasts have become highly popular among listeners in Sweden. The fact that half of the population listens to podcasts an average week, make up a solid foundation for strong growth in advertising, comments Marie Nilsson, CEO of Mediavision. As opposed to other streaming media, a pay market for podcasts seems to be far off. This will have an impact on content going forward, but probably also play a part in what actors will lead the development.