Mediavision: Podcast paying households has doubled in the past year
Mediavision's Q2 analysis of the audio market in Sweden shows strong growth for paid podcast services over the past year. Today, close to 400 000 households pay explicitly for podcasts – more than twice as many as a year ago when the paying households amounted to 185 000. The strong growth is in part explained by the launch of new, popular services, but also by an increasing number of podcasters choosing to place either part of or all their content behind a paywall.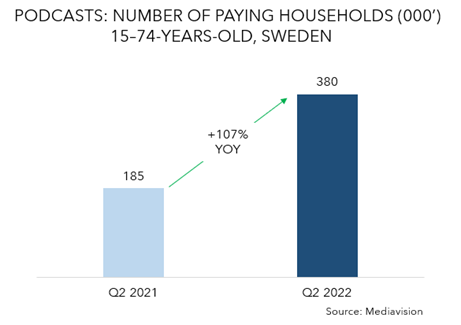 Despite strong growth, the market for paid podcasts remains small compared to other paid media markets. In comparison, there are more than 2.6 million households in Sweden that pay for SVOD. More than 2 million households pay for music streaming.
– According to IRM, podcast advertising revenues have grown significantly in the past 12 months. It seems that the consumer paid podcast market has now also gained traction in Sweden, comments Fredrik Liljeqvist, senior analyst at Mediavision. Growth is mainly explained by creators placing more content behind paywalls. However, the market is infant, and we will likely see different forms of packaging and revenue models emerging. Regardless of how the content is monetized, podcasts already play an important role in everyday life for many media consumers.