Mediavision: Streaming services back in strong growth, pushed by TV operators
During the first quarter of 2023, growth is again noted for paid streaming services, so-called SVOD. This comes after a clear slowdown during last year. The fact that more households now choose to buy streaming subscriptions is primarily explained by the fact that the subscriptions are bundled with pay TV. This is concluded by Mediavision in the latest analysis of the Swedish streaming market.
Household penetration for paid streaming services in Sweden increased by 9 percent in the first quarter, compared to the same period in 2022. This is a shift, after a period of relatively slow growth. Today, close to 70 percent of households in Sweden have at least one paid streaming service, either as a stand-alone subscription or bundled with another service (Buy through SVOD or B-SVOD, in short), usually pay TV. It is mainly these bundled offers that are now driving growth. This type of subscription increased by a whopping 15 percent in Q1 and is now found in every fourth household.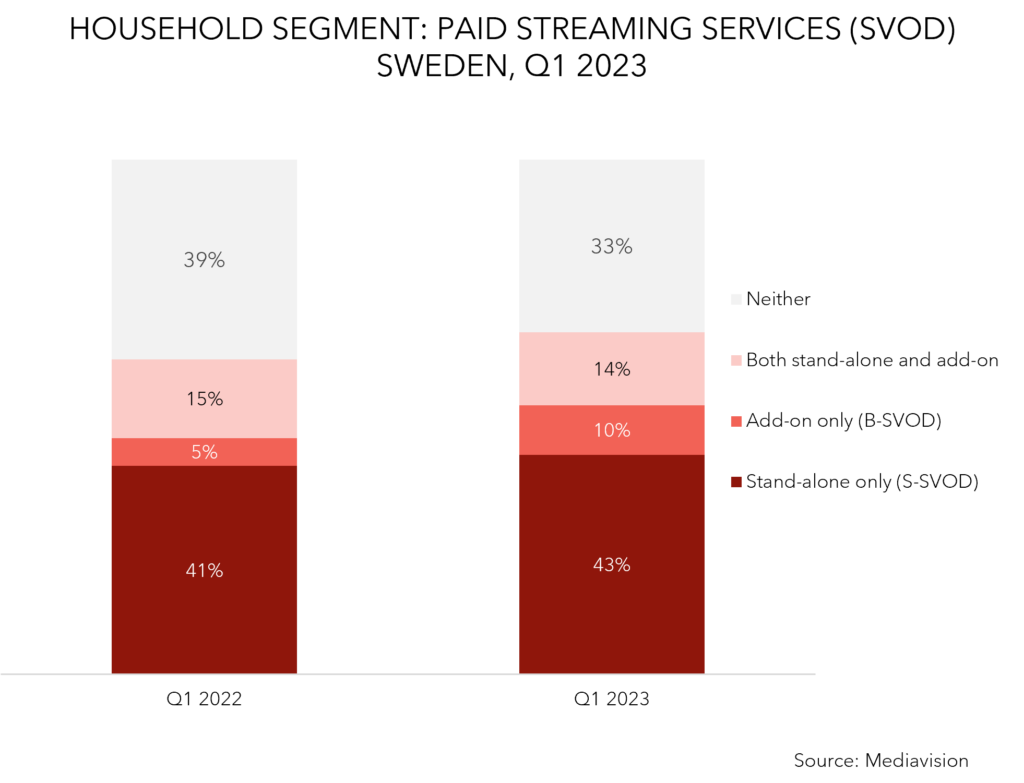 It is primarily households that previously did not have paid streaming services that are now attracted by this new type of packaging. TV operators, such as Telia and Tele2, have broadly launched streaming content alongside their traditional TV offerings. These bundles are perceived as good value which has likely had an impact on uptake. Subscriptions that are bundled with another service are usually less expensive than buying them separately.
– Bundled offers have developed rapidly, with an increasing number of offerings from more TV operators. We now see that these packages are also attracting brand new households, which previously did not have paid streaming services. There are many indications that this trend will continue, as it has driven both increased access and market turnover, says Marie Nilsson, CEO at Mediavision.